Founded in 1983, MicroCenter Group is a pioneer in providing Information technology solutions in Bahrain. Initially it was starred with the aim of providing customized IT solutions to small and medium organizations but today with over 100 customers, both in the Government and private sector. With four group companies and an office in Saudi Arabia today it has diversified into various other businesses that include training and engineering solutions.
Currently it specializes in Business Solutions, Geographical Information Systems (GIS), and Utility Engineering Services. It is also an Oracle Gold Partner and the sole distributor of ESRI, Telvent, and Trimble in Bahrain. It has around 100 employees in all its divisions in Bahrain.
Micro Training Center is Esri Authorized International Learning Center, our motive is to provide job oriented skills in specialized information technology fields like Geographical Information Systems (GIS), ERP applications, and related technologies etc. Further, to prepare the candidates for internationally accredited certification examinations (Wherever applicable) and to train them to become responsible professionals. In future we will also carry out contract IT related research.
Our mission is to develop specialized professional skills in technology oriented young men and women having active and creative minds from Bahrain and other GCC countries and provide them with an opportunity to learn assessable skills with compassion, humility and intellectual competence in the areas of GIS and Information Technology.

We are the sole distributor of Esri in Bahrain.
Esri is the world's leading mapping technology company and honored to be on Forbes' top ten list of America's Best IT Employers. Using appliedgeography, we help people understand the world and design a smarter future.Esri is an international supplier of Geographic Information System software, web GIS and geodatabase management applications. The company is headquartered in Redlands, California founded by Mr. Jack Dangermond in 1969. Esri develops geographic information systems (GIS) that function as an integral component in nearly every type of organization followed by the award-winning educational programs enable users to become productive immediately. Esri collaborates with major technology leaders: Amazon Web Services, Citrix, IBM, Microsoft, Oracle, SAP, SAS, and others. These relationships ensure product compatibility and provide users with a wide range of technology solutions many more.
Apply Geography to Your Work and Make Better Decisions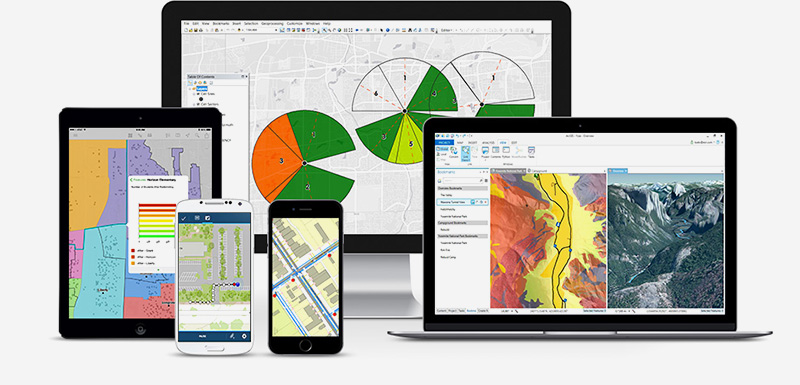 ArcGIS Platform
Esri's ArcGIS platform enables you to discover, use, make, and share maps from any device, anywhere, at any time.

ArcGIS Core Products
Use ArcGIS core products to implement the right ArcGIS framework for your organization. With them, you can create maps and apps and provide mapping capabilities to anyone using apps:
ArcGIS for Desktop
Professional GIS Authoring
There are lots of ways to make a map. But if people use your maps to make decisions that save money, time, or even lives, then you need to put science to work for you. Use ArcGIS for Desktop to build maps with up-to-date data, combined with deep analysis, and share them where they'll have the most impact.
ArcGIS Online
Mapping Without Limits
ArcGIS Online is a complete, cloud-based mapping platform. Make and share beautiful maps, and do everything in between. It's possible only with ArcGIS Online, a scalable and secure software-as-a-service hosted by Esri.
ArcGIS for Server
Enable ArcGIS within Your Infrastructure
ArcGIS for Server improves the way your business works by bringing the power of GIS into the hands of everyone in your organization, enabling better decision making.